4th Annual Columbia University Endoscopic Sinus, Skull Base, Orbit, and Ear Surgery Course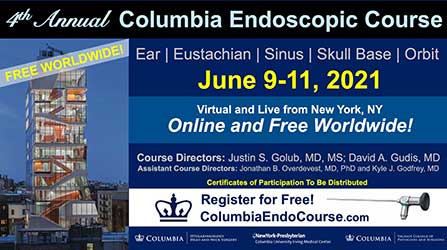 Free virtual 4th Annual Columbia University Endoscopic Sinus, Skull Base, Orbit, and Ear Surgery Course
June 9-11, 2021
Dear Morocco Association of ORL,
I am David Gudis, a Rhinologist at Columbia University in New York.  We are thrilled to announce our free virtual 4th Annual Columbia University Endoscopic Sinus, Skull Base, Orbit, and Ear Surgery Course, June 9-11, 2021.  I would be honored if you could distribute this information to your Morocco Otolaryngology network so that we may maximize worldwide participation!  We would love for all interested surgeons worldwide to join us to discuss the latest surgical advances with our internationally renowned speakers.
In 2018 and 2019 our first two courses sold out to maximum capacity with surgeons from around the world who joined us in New York City to learn the latest in endoscopic ear, sinus, skull base, and orbital surgery in our lectures and hands-on surgery lab.  In 2020, due to the COVID-19 pandemic, we moved our course online and created free access worldwide.  We were thrilled when over 5,000 participants from 125 countries joined us last year!  We are very excited to present the 4th Annual Columbia University Endoscopic Otolaryngology Course, with free participation worldwide!
Register for free at www.columbiaendocourse.com.  Certificates of Participation will be distributed.
Please see the flyer attached for more information and the lecture schedule.  Thank you very much for helping us spread the word!
Sincerely,
David Gudis
David A. Gudis, MD, FACS
Chief, Rhinology & Anterior Skull Base Surgery
Dept of Otolaryngology – Head & Neck Surgery
Dept of Neurologic Surgery
Columbia University Irving Medical Center
NewYork-Presbyterian Hospital
P (212) 305-8817 / F (212) 305-1366